1985 Bitter SC
A contribution by Matthias Zabel from Hamburg, Germany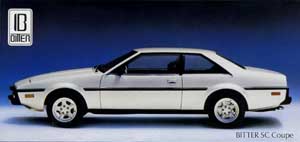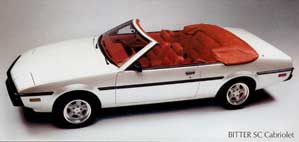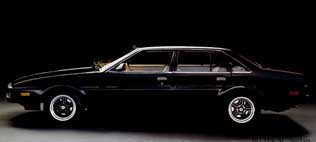 ---
The SC was the successor of the legendary fastback coupé CD. While the CD copied the lines of the Maserati Ghibli,
the SC´s design was influenced by Pininfarina´s Ferrari 400-412. The official version claims that the SC design was done by Erich Bitter,
but other sources say that Giovanni Michelotti was involved, too. The SC used many Opel components, mainly from the Opel Monza. Initially, it
was powered by an unchanged 3 Litre 6 cylinder, later Bitter offered a larger version with 3,9 Litres which was developed by German Opel tuner Mantzel.
The coupé was presented in 1980 in Monaco on the occasion of the 1980 Formula 1 Grand Prix; it was used as the official safety car. From 1981 to 1989, about
460 coupés were made. Initially, the bodies were built in Italy by Carrozzeria OCRA, but soon Bitter switched to Carrozzeria Maggiola, and finally even Steyr in
Austria was involved. Additionally, 22 convertibles were built and 5 sedans; some cars were also equipped with the Ferguson four-wheel drive system.
---
---