2000 Qvale Mangusta
A contribution by Matthias Zabel from Hamburg, Germany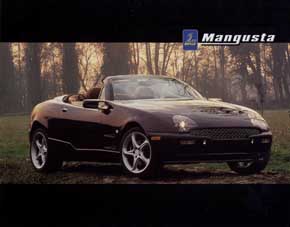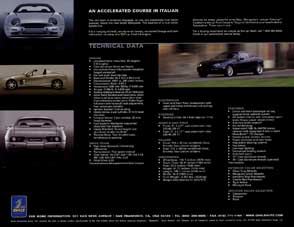 ---
This car is a real rarity. It had three lifes. It was born in 1996 under the name of De Tomaso Biguá. The Biguá,
was designed by Marcello Ghandini. Ghandini is the man who penned such classics as Lamborghini Miura and Countach,
the Alfa Romeo Montreal and the Maserati Khamsin and Shamal. The Biguá design was unique. It was a coupé, a targa and
a convertible in one. The center part of the roof could be removed manually, while the rear part disappeared electrically in
the trunk. Technically, many components from Ford USA were used. The engine was a 4,6 litre Mustang V8, some mechanical
and electrical parts came from Ford as well. After it had been presented in Geneva 1996, De Tomaso failed to establish a production
in its own factory. This due to a severe lack of money. Few if any Biguás were produced by De Tomaso. In 1998, De Tomaso sold the
rights on the car to the American Bruce Qvale. He was the son of Kjell Qvale who imported lots of British sportscars to the US in the
1950s and 1960s. At one time he also owned Jensen. (In the 1970s). Bruce Qvale bought the rights to build the car, he even bought the
factory in Modena, but he was not allowed to sell the car under the well-established name of De Tomaso. Instead, the cars was marketed
as Qvale Mangusta. Production started in 1999 and ended in 2001. It proved to be difficult to distribute a high-priced car with an almost
unknown name. From 1999 to 2001 about 270 cars were built. In the end of 2001, Qvale sold the rights to the british MG Rover Group where
it was heavily re-designed in order to become the so-called MG X-Power SV. No serious production was ever realized.

---
---