1971 De Tomaso Pantera
A contribution by Matthias Zabel from Hamburg, Germany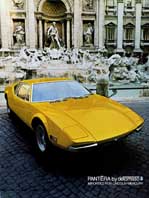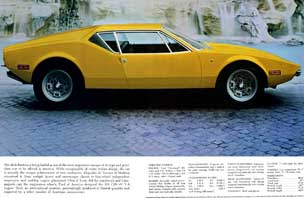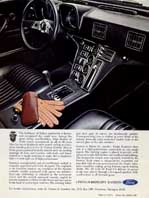 This brochure shows the very first series of the Pantera, being produced from late 1970 to April 1971.
These cars were built and finished by Carrozzeria Vignale in Torino. In May 1971 De Tomaso opened its own assembly line in Modena.
Since then, Vignale just built the bodies while the finish of the cars – installation of engines, seats, paintwork etc – was done in Modena.

The Vignale-built Panteras are rare. It´s said that about 350 cars were assembled by Vignale in early 1971.
They can be identified by the door handles. The Vignale-built Panteras have push-button door handles (from Fiat 850 Spider)
while all the later models (starting in May 1971) have rectangular ones. In the US, the very early Panteras are called the "Push
button Panteras". They are very much sought after. Finally, the pictures from this brochure where taken in Rome in front of the Trevi fountain.

---
---