1962 Cadillac Sixty-Two Coupe
Logbook
---
---

---
(All parts prices are in Norwegian kroner (Nkr) Freight charge and tax included.)


July 2005
I bought my Cadillac in July 2005 at Amcarsenteret Seraco. I picked it up on saturday the thirteenth of august.
Seraco is a car dealer on the island Karmøy in Norway.
They have American classics as one of their specialities.
Amcarsenteret Seraco homepage



13 august 2005
My Cadillac was imported to Norway from the USA in 1992. It has never been restored, but received a paint job 25 years ago.
It was sold new in Texas. In 1990 it was sold to someone in Chicago. Then in 1991 a Seraco collaborator
in Georgia bought it and shipped it to Norway.


13 august 2005
Since 1992 Cadillac has spent most of it's life stored in a garage, so I was in for an interesting four hour drive home.
So how was it? It started well, Cadillac drove problem free for the first three hours. An hour from home the generator light came on.
Half an hour later the driver side exhaust manifold started leaking (really noisy). It proved to be an old fix that broke.
The manifold has a crack that needs to be fixed properly. Luckily the battery was good so we got Cadillac home :-)


16 august 2005
I tried to get the (direct current D.C) generator fixed without luck, parts not available anymore, but a new
remanufactured unit was available at 6000 Nkr. (Very expensive, close to $1000)
The car electrician I spoke to recommended me to rather install a more modern alternating current A.C alternator.
I will do that, but need some help to modify the wiring.


19 august 2005
New alternator installed. I used one that I had from the 87 Caprice partscar that I bought a few years back.
I was able to used the same brackets as on the original generator.(Can you believe that?)
It took awhile to figure out, I had to turn the brackets (two brackets) the wrong way round.
There are three tracks for the belts, one for the airconditioning compressor,one for the servosteering and one for the alternator.
Originally the generator used the innermost track. After my modifications the alternator is now on the outermost track.
To do this I removed the aircondition system. It did not work anyway, and there is not much need for it here in Norway.
Yes, I removed it carefully and collected all parts so it will be easy to reinstall.


02 september 2005
cleaning and detailing, it took me eight (8) hours to finish the cromed front section.
I am now in the process of changing all the fluids/oils.



03 september 2005
There is a whistle from the left front brake. I need to take a closer look at the brakes.
Everything looks very good, lots of new parts. Exept on the left front side, where the drum is worn out.
This is a mystery, because the shoes and everything looks good. Maybe someone had a brake-overhaul and forgot this drum???
I bought a new/used drum from Phoenix US Cars in Tønsberg, and a set of shoes. Total cost 2000 Nkr. Freight charge included.



14 september 2005
Two weeks ago I ordered a new carpet for the floor. Received it today.
I bought it from Phoenix US Cars in Tønsberg. Price was 2200 Nkr. I also received new rubber seals for the doors, and the trunk.
Total order price with freight charge (carpet and rubber seals) 4300 Nkr.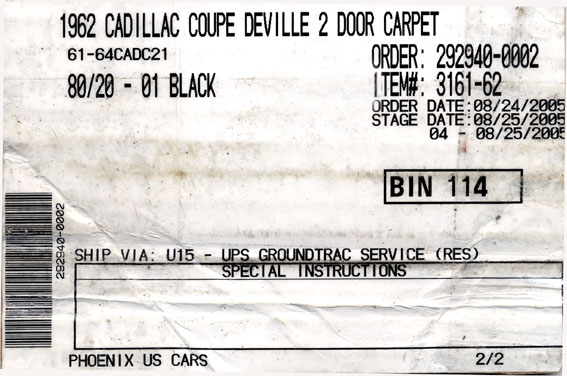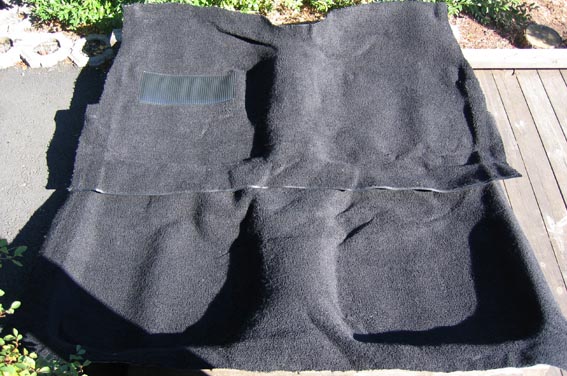 Door seals.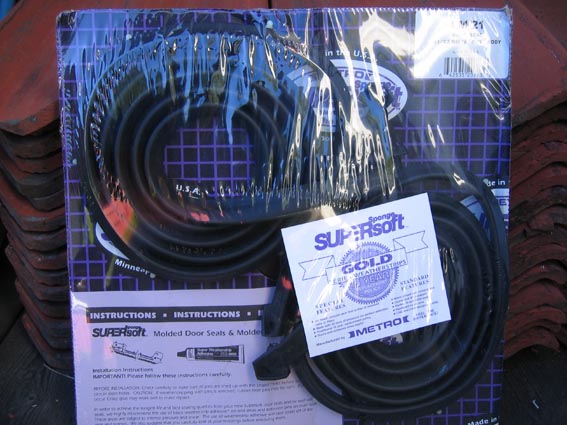 18 september 2005
Trunk seals installed.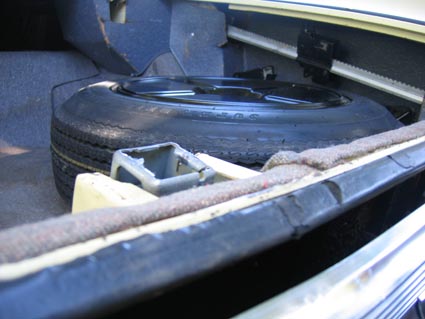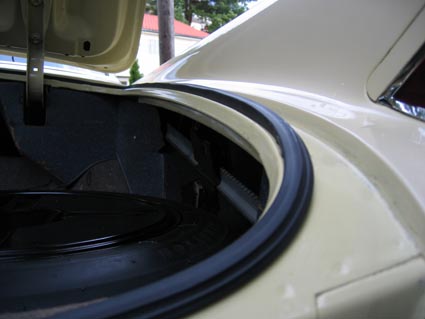 22 september 2005
Cadillac feels a little uncertain/unsteady when I use the brakes.
It pulls a little to the right then it brakes straight. It feels like one side gets the "oil pressure" earlier than the other ??
Before changing parts I checked the quality of the brake fluid. It was not good at all. looked like the original 1962 fluid.
I drained the brake system and added new fluid.
This proved to be the cure, brakes ok. :-)

24 september 2005
The waterpump has been making strange noisy sounds for a few days.
The bearing is bad. Dried out.... Typical for a car that has been stored for a long time. Too bad for me. :-(
New water pump ordered from Classic Auto parts in Heimdal. (They had the best price, but still very expensive)
Delivery was fast, only two days, price was 4400 Nkr.

Pictures shows new waterpump.
I also restored the parts that I had to remove.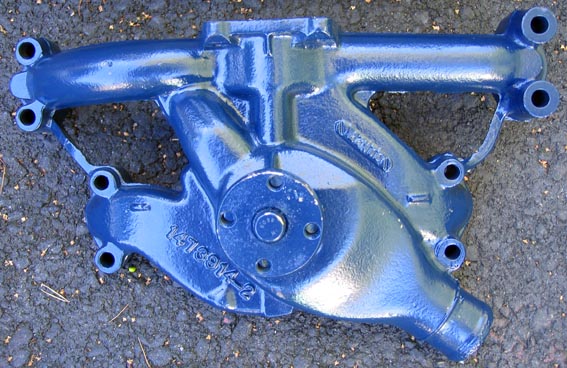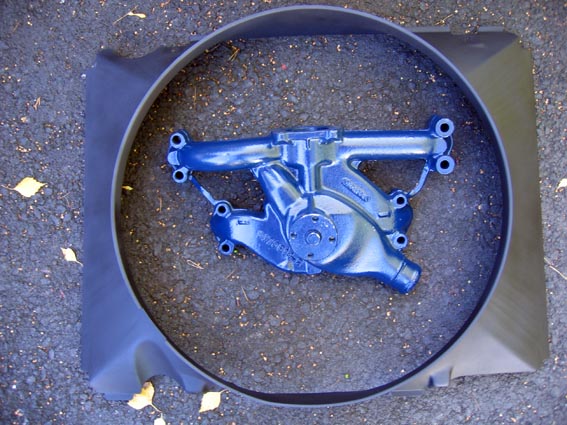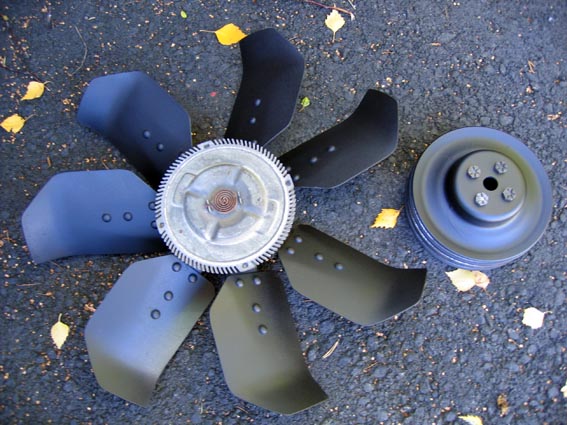 12 oktober 2005
Still working under the hood, cleaning and painting.
All colors don't match original, but they are very close. Good enough for me, it's not my intention to make it a show car.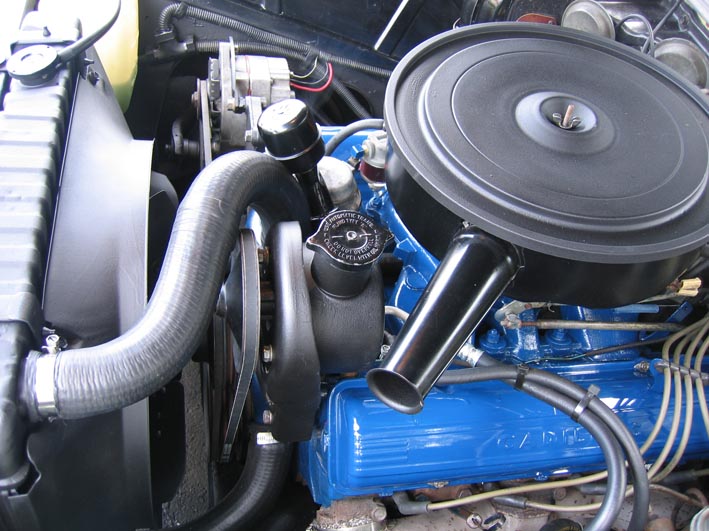 15 oktober 2005
Cadillac vibrates a little when I drive at high speed, I believe fix is to change the cardan joints on the drive shaft.
On my Cadillac there are three joints.
Also I had to fix a leak from the rear axle (Zimmer seal). It leaks where the drive shaft connects to the yoke.
The "Yoke nut" and the part of drive shaft connected to it was really stuck.
Heat, puller and patience was necessary to get it removed.
Bilteknikk in Kristiansand helped me to perform this job, since I did not have the right tools.
I am glad I asked for help, it proved to be more of a job then Bilteknikk and I ever could imagine.
This of course made it more expensive than planned. Total price parts and labor ended at 4000 Nkr.
Twice as much as expected.... :-( The old cardan joints was all dried out, and hard to move.


30 oktober 2005
Today I installed new spark plugs, spark plug wires, distributor and all the stuff inside it.
I also installed new gaskets for both valve covers.
bought the parts from Amcarsenteret Seraco, total cost 1004 Nkr.


22 november 2005
New carpet installed.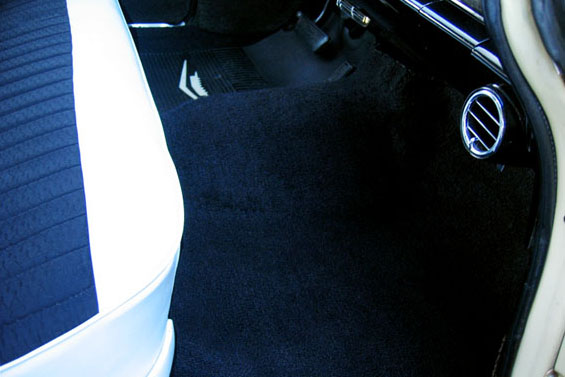 25 november 2005
Today I received my order on Calyx exhaust manifold dressing.
I will take some (before and after pics) as soon as I have applied the dressing :-)
Bought it from Aarnes Amerikanske bildeler, they didn't have Calyx on their "menu", but told me that if this stuff was made they would get it for me.
So now four weeks later it's here :-)
One container, 3 ounces, will do 3 sets of cast iron exhaust manifolds. I bought three containers two for me and one for my friends 1970 Cadillac.
Total cost 1200 Nkr.
Calyx homepage: Calyx homepage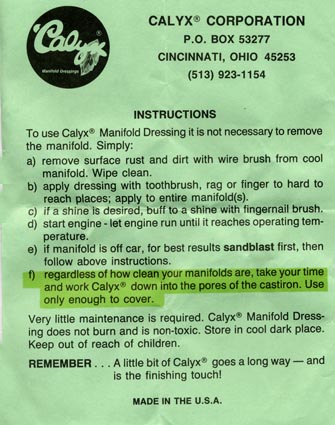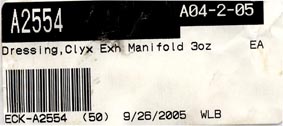 17 desember 2005
Today I received my order on new black fabric for the front sofa. The black fabric is worn on the drivers side.
I will not restore the sofa yet, I just wanted to get the fabric.
I ordered enough fabric to restore only the front sofa. The back sofa is perfect.
This fabric proved to be worth it's weight in gold... :-)
I bought it from Phoenix US Cars in Tønsberg. Price was 4544 Nkr.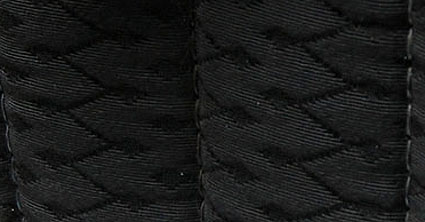 This "tag" was on the wrapping, so I guess Phoenix US Cars bought it from Oliver's Auto Trim in Fersno California.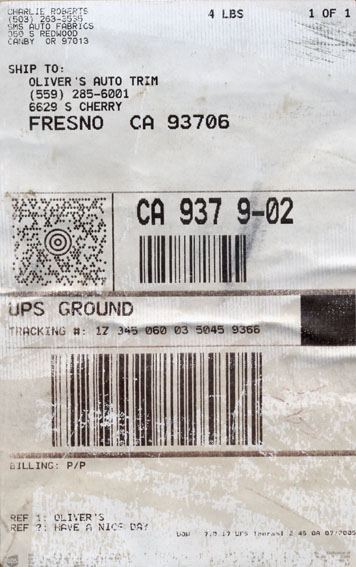 03 february 2006
4 new headlights bought from Phoenix US Cars in Tønsberg.
I had to replace one dead high beam lamp. Price was very nice so I ordered a complete set. Price for all four was 682 Nkr.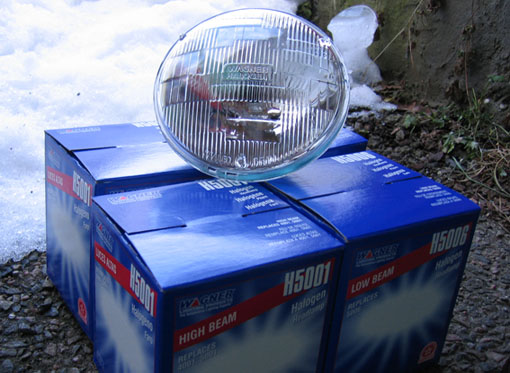 16 april 2006
4 new headlights installed.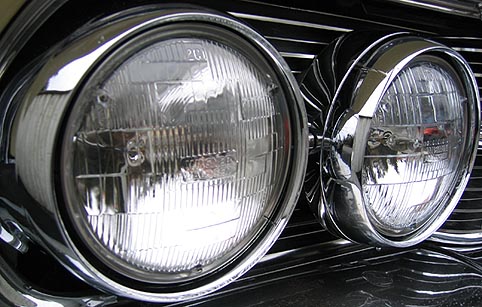 20 april 2006
Exhaust manifolds with Calyx manifold dressing applied.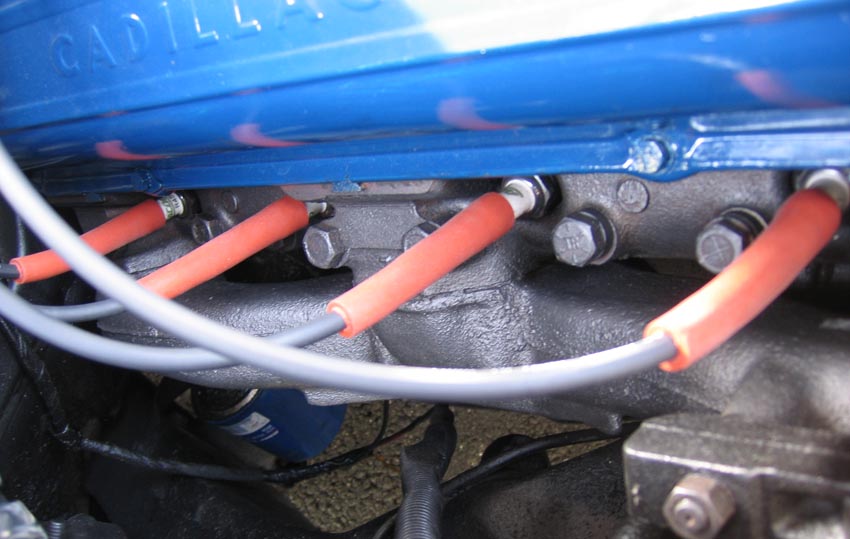 It took a toothbrush and 30 minutes to do both sides.
Calyx homepage: Calyx homepage


14 may 2006
Seatbelts for backseat passengers installed.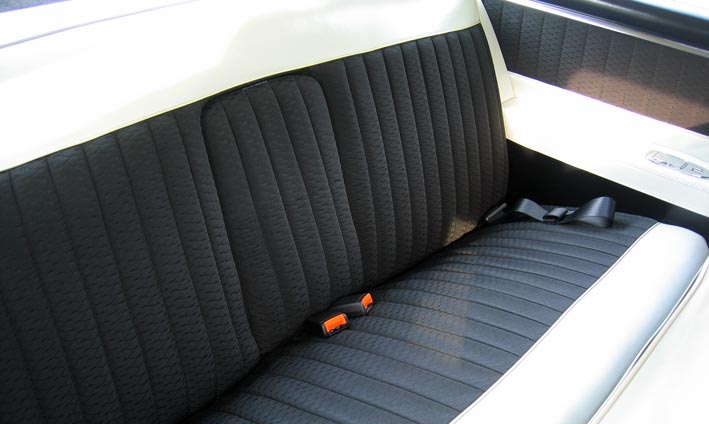 15 may 2006
Today I restored the underside of the hood.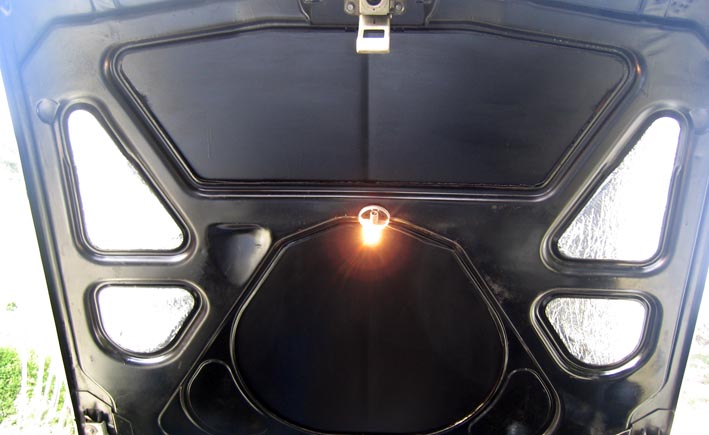 01 june 2006
Today I visited Svendsen exhaust service in Skien for installation of new exhaust system.
The old one was not very good. I kept the "old" mufflers, since they where almost new.
Svendsen Eksos homepage
Total price ended at 4959 Nkr. It took close to 4 hour to finish the job. Everything custom made.
Thanks a lot to Andre Karlsen for doing a professional job :-)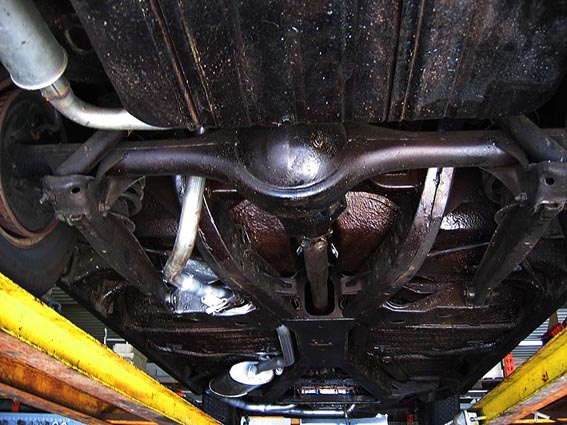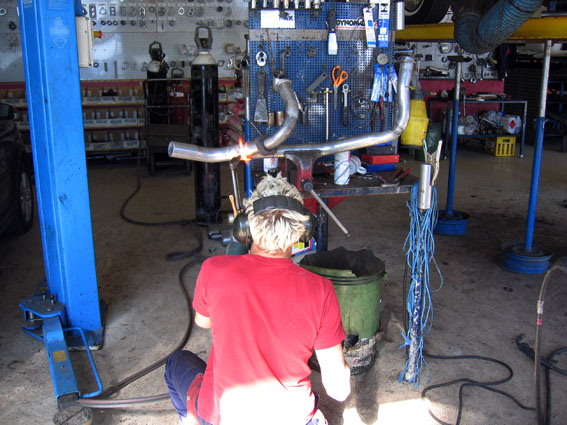 06 june 2006
New tires, Cooper Lifeline Classic II. 225x75-15 front and 235X75-15 rear.
Bought at Hjulius in Kristiansand. 3500 Nkr.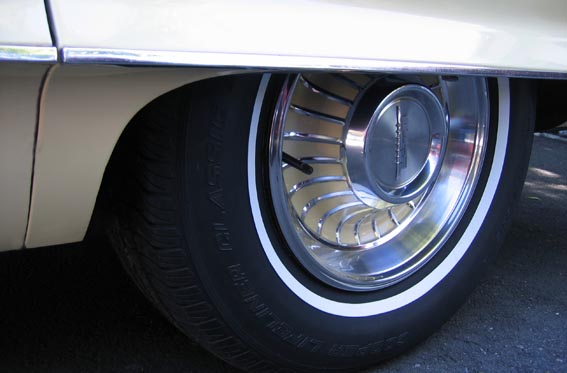 14 june 2006
Installed Crane Cams XR-i Points conversion ignition kit. This kit replaces the conventional breaker points.
Bought from Phoenix US Cars in Tønsberg. 1225 Nkr.
Click this link to see Installation instructions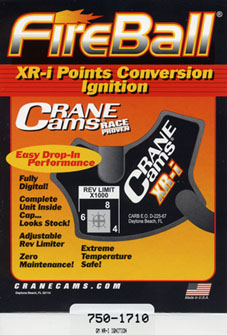 25 june 2006
New shocks installed. Gabriel up front and Monroe for the back suspention.
Bought from Phoenix US Cars in Tønsberg. 1000 Nkr.


27 june 2006
Extra set of Cadillac keys bought on Ebay (Blanks).
Total cost $6.99.


25 july 2006
Cadillac makes some vibrations/resonance at different speeds, I have earlier changed the cardan joints on the drive shaft. It proved not to be the cure.
Now my next step was to balance the drive shaft.
This job was done by GKN Driveline Scandinavia in Oslo. Still not the cure????
Total cost with shipping 2000 Nkr.
GKN even painted the drive shaft :-)
Any suggestions on problem is appriciated.
I have read about alignment of the shaft, and will try to do that.


19 august 2006
Bought trunk mat on ebay.
Total cost $85.00.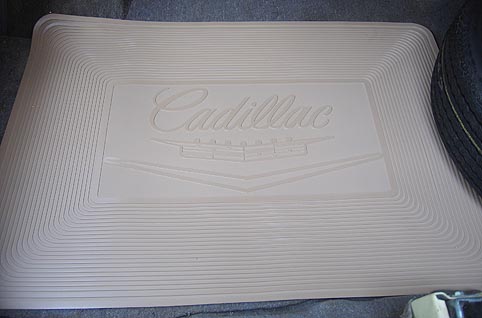 20 august 2006
Bought radiator to support seal (rubber) on ebay.
Total cost $40.00.
Bought this part from Rubber The Right Way.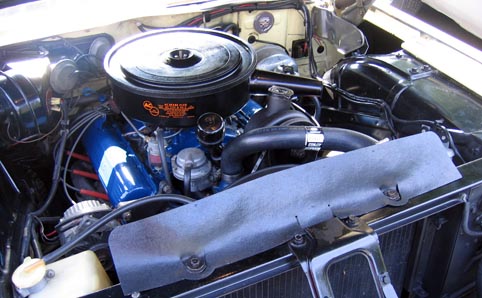 22 august 2006
New dual crome exhaust endpiece installed
Total cost 300 Nkr.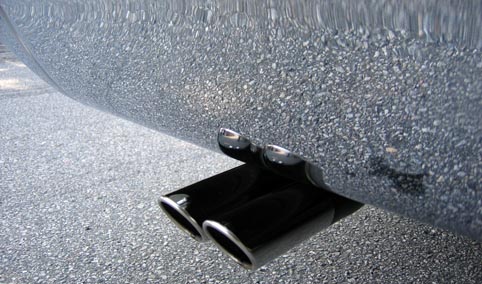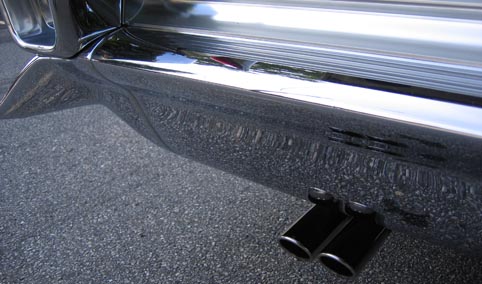 07 september 2006
Every second year all cars in Norway must go through a tecnical inspection.
Today it was Cadillacs turn. The inspector could find no defects :-)



13 september 2006
Bought hood to fender bumpers (rubber) on ebay.
Total cost $26.50.
Bought these parts from Rubber The Right Way.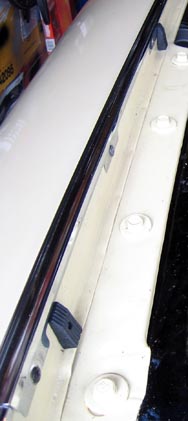 ---